This post may contain affiliate links.
It doesn't seem possible that my baby boy is already in his last year of elementary school. One thing I love about homeschooling is being able to spend so much time with my children. I get to watch them grow, mature, and learn. We have quality time and a great quantity of time as a family. Spending so much time together means that we know each other really well – strengths, weaknesses, and personality quirks. I feel confident that this 5th grade homeschool curriculum will be a great fit for my son.
Engaging 5th Grade Homeschool Curriculum
Math
In past years we used a combination of Khan Academy and co-op classes for my son's math curriculum. Based on his annual test results, those formats worked well for him, although he is also naturally mathematically-minded. We decided it switch it up though for 5th grade, though. At the end of fourth grade he told me that he felt like he was not getting as much from the computer math lessons as he would a paper book. I think that might have been his way of requesting more one on one instruction time with me.
I decided to add Math Mammoth level 5 to our 5th grade homeschool curriculum because we have had positive experiences with it in the past. Math Mammoth provides instruction, plenty of practice problems, and a long list of educational websites related to each chapter's lessons.
Language Arts
Every year I compile a reading list for my children. My son will read through this 5th grade reading list at a rate of one book per month. This will give us plenty of time to discuss comprehension questions and new vocabulary terms, analyze literary themes, and do a few hands-on projects that relate to the stories. He is not a child that naturally loves reading, but I am hopeful that he will enjoy this book list.
We have had great spelling success with All About Spelling over the past two years, so we are going to continue use this great homeschool spelling curriculum. I really like that it teaches spelling rules and not just rote memorization of words. Ben likes that it is not time intensive. He is the type of kid that wants to know why something works the way it does. Once he knows the why, he learns it and moves on.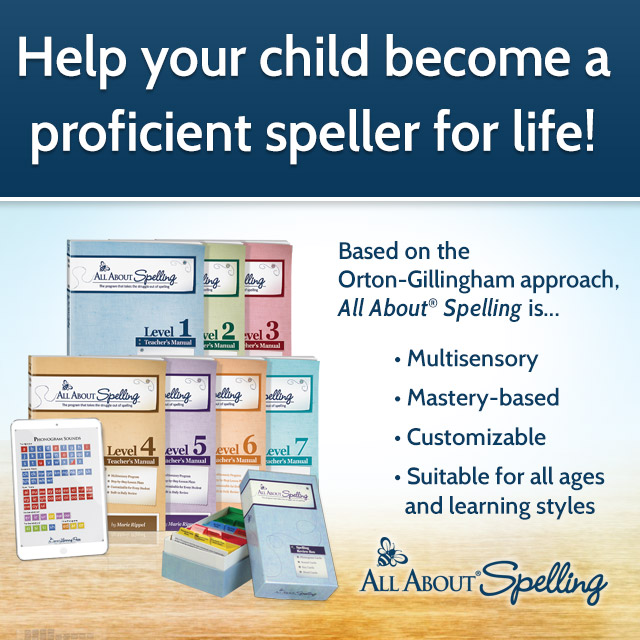 This year my son is progressing to WriteShop Level E. He had a great experience last year using level D. The teacher instruction is laid out in a clear and organized manner, but this homeschool writing curriculum is also enjoyable. My son didn't really like to write before we started using WriteShop, but there were many lessons over the past year where he literally laughed out loud because he was having so much fun. I have already purchased WriteShop Level E, so all that is left is to spend an afternoon organizing all of the writing materials for the year.
I fell in love with this grammar curriculum last year when I had the opportunity to review Hake Grammar. This complete grammar curriculum contains a spiral approach that leads to mastery and retention. Students have multiple opportunities to ask questions, gain understanding, and master grammar rules. This spiral process really helped Ben retain the information taught. It also helped me see what areas needed a little extra help.
Science
Science is one area of our 5th grade homeschool curriculum that puzzled me at first. I have always taught my children science together. My son has always exceled in science, so he has been able to keep up with his sister, despite the three year age difference. She is taking a high school level science course this year and I thought that the team teaching would have to end. After thinking this through, I came up with a solution. They will cover the same content, but his reading and writing assignments will be grade level appropriate.
We will be studying marine biology this year.  I am combining various resources to build our own curriculum.  At this point, I have mapped out the content areas and reading assignments for my 8th grader, but still need to spend a little more time finding age appropriate marine biology books for my son.  I will share those resources once the curriculum is completely planned out for the year.
I'm envisioning days spent observing, questioning, and sketching in aquariums. Honestly, the field trips for a marine biology course sound amazing.
UPDATE – We had a blast studying marine biology. You can find the entire marine biology plan here.
History
We are ditching a traditional history curriculum in favor of interest led learning this year. I asked each of my children what they would like to learn this year and they each had different answers. My daughter suggested learning about the history of chocolate and my son would like to learn about the history of video games. We will study each topic for one semester. I think these will be a really fun addition to our 5th grade homeschool curriculum.
I'm not sure if this interest came about because of:
Enjoying our tours of the Seattle Chocolates factory
Liking chocolate treats
Hearing about another homeschool family studying the history of chocolate
Either way, I think this will be a really fun unit study. We will start with the Mayans and work our way up to the Hershey era of chocolate. I expect we will read plenty of books, watch videos, study maps, and maybe squeeze in a field trip or two.
History of Video Games
My screen-loving child is very excited about studying the history of video games. This portion of our history curriculum will be taught in the second semester, so I still have a lot of work to do to get ready. I don't know much about video games, but my techy husband will fill in my gaps. He has a degree in computer science and plenty of work experience in the field so he is more than qualified to take the lead. Epic, creator of Fortnight, has a local office, so I'm going to try to schedule a field trip.
Geography
I take a low key approach to teaching geography, and it's inclusion in our 5th grade homeschool curriculum is no exception. We will learn about one country in Asia each month. This will give us time to watch videos, read great books, and cook delicious food. I even found a Ticket to Ride Asia expansion pack board game!
My goal with teaching geography is to focus on the people. Yes, we learn about the geographical features that make a country unique, but the majority of our time is spent learning about how people live in that region of the world.
Pin this post so you can find it later!
As an Amazon Associate I earn from qualifying purchases
Related Posts: