This post may contain affiliate links.
All About Spelling is my favorite homeschool spelling curriculum.  We tried a few different curriculums before landing on All About Spelling, but nothing was ever a good fit.  They either didn't work or made my kids cry.  No one should cry over spelling!  We have been using All About Spelling for the past two years and it is still the best homeschool spelling curriculum I have seen. I have found that many families are not familiar with this fantastic curriculum.  Here are some of the most frequently asked questions about All About Spelling.
Frequently Asked Questions About
How much teacher prep work is required?
Not much.  When you first receive your All About Spelling interactive kit you will need to spend a little bit of time punching out letter tiles and adding the magnetic backing.  That only took me about an hour or so.  Every time we advance to a new level I spend about 30 minutes separating cards.  I do it during a favorite show, so I don't mind it at all.  You only need to prepare the magnetic tiles once for all of the books, so future prep sessions go a bit faster.
On a weekly basis, I do zero prep work.  Just open the teacher guide, grab your review box, and start teaching.
Do I really need to start my students in level 1?
Yes.  I know.  It can feel kind of frustrating to start an older student on level 1.  Every level builds upon rules learned in the previous levels, though, so it really is necessary.  My daughter was in 6th grade when we discovered All About Spelling and she was not thrilled at the idea of starting at the very beginning.  She did it though, and is a better speller because of it.  Older students will probably move through the levels a little faster than a child learning to spell for the first time.
Just remember, and remind your kids, the level does NOT coordinate with grade level or reading ability.
How much time does each lesson take?
We spend about 15-20 minutes working on All About Spellings lessons 4 days a week.  That is just enough time to quickly review previous cards, teach the lesson, and spell a few words.  We do not always complete a lesson in the teacher guide every time we work on spelling.  Sometimes lessons stretch over a few days.
How quickly will my kids progress through the program?
Every child is different, but my children are completing 1.5-2 levels each school year.  I recommend not rushing your child through the program before they have mastered the spelling rules.  Remember, the spelling level does not correspond to the grade level.
What do I need to buy to use the program?
You will need: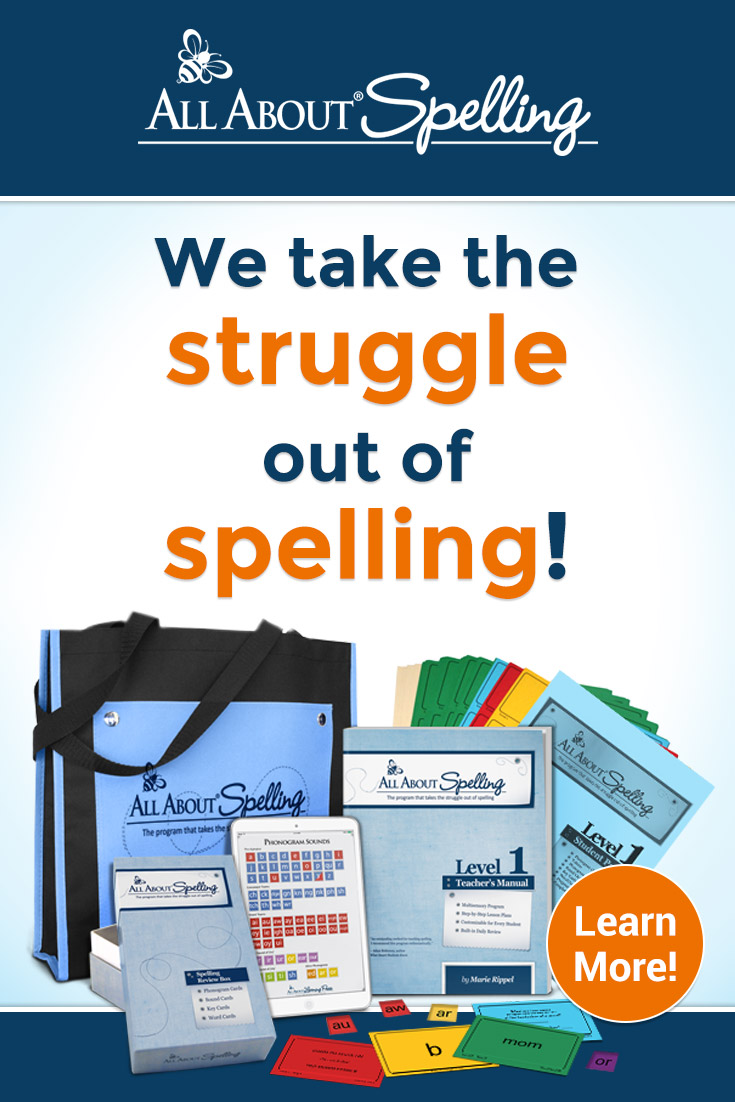 I already have letter magnets.  Can't I just use those?
Nope, sorry.  The All About Spelling letter magnets are not just letters.  They are phonograms.  That means, in addition to the standard alphabet tiles, there are vowel suffixes, consonant suffixes, vowel teams, consonant teams, r-controlled vowels, /er/ sounds, /sh/ sound, and a few other tiles.
You only need one set of magnetic tiles for your household, regardless of how many children are using the program.  Both of my kids use All About Spelling and share the magnets.  They just don't try to do their spelling lessons at the same time.
What is the difference between the basic and deluxe kits?
The basic interactive kit contains just the basics – the letter tiles and magnets, the spelling divider cards, and the free app.  The deluxe interactive kit includes those items plus a tote bag and storage box for the cards.  Personally, I chose to buy the basic kit and I haven't regretted it.  If you buy the basic kit and then wish you had the tote bag or official AAS storage box, you can order them separately.
I use this storage box for my cards and they fit perfectly.
How do I organize it all?
All About Spelling is easy to organize if everything has a 'home'.  Our magnet letter tiles live on our white board.  We never take them off unless I'm cleaning up the dining room at the end of the school year.  The teacher manuals and storage boxes stay on the book shelf unless we are working on spelling.  There are a few student pages in each level.  I file those pages in the tabbed divider pocket for each student in my lesson plan binder.
Two years in and we haven't lost anything yet!
We frequently do school work away from home.  Can we do AAS away from home?
You can definitely do All About Spelling away from home.  I liked to bring it to work on during co-op down time.  To make the program portable, I left the magnetic tiles at home and instead brought a small white board and dry erase markers.  The cards for that particular lesson were brought in a small baggie.  My huge teacher mom tote bag held the teacher guide, white board and markers, and baggie of cards with no problem.
You can also purchase the Letter Tiles App to use away from home.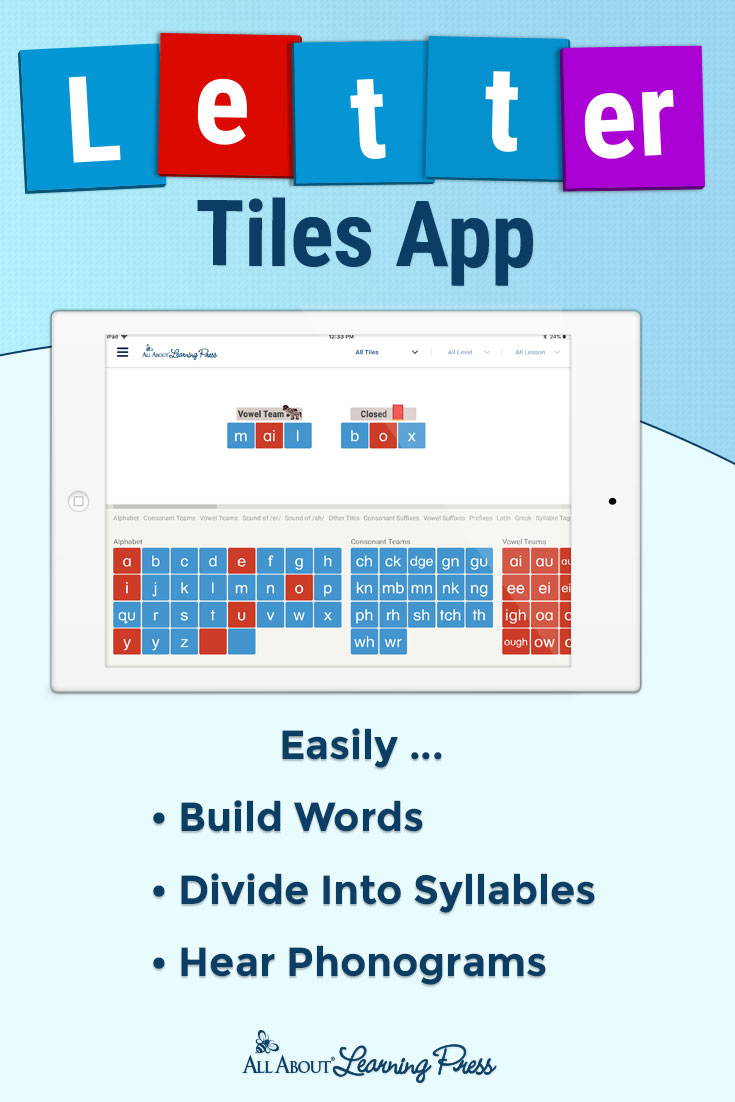 Are there spelling tests?
Nope.  There are no spelling tests, but most lessons do have a list of 10 words that reinforce the rule learned. Students are not tested on those words, they are just included in the lesson.  We are working towards mastery though, so I don't typically move my children on to the next lesson until most of those words are spelled correctly.  Words that are misspelled are simply placed in the review section and can be reviewed until they are mastered.
What if it doesn't work for us?
All About Spelling has a 100% satisfaction guarantee.  If you purchase the curriculum directly through All About Learning and are not happy with the program, you can return it and receive a full refund. You can try it out for an entire year before deciding whether this is the right program for your student.
Any other questions about All About Spelling?  Leave them in the comments or email me and I will be happy to try to answer them!
Related Posts:
Organized Homeschooler is a participant in the Amazon Services LLC Associates Program, an affiliate advertising program designed to provide a means for sites to earn advertising fees by advertising and linking to Amazon.com.