This post may contain affiliate links.
I am a geography curriculum junkie so I was excited to get the opportunity to review Let's Go Geography.  Learning about far away places and people is important if we want our kids to be well educated.  A good geography curriculum for kids makes teaching this easy.
We used Let's Go Geography to learn a little geography while on our summer break.  The lessons were engaging and took less than an hour each week so my kids didn't mind doing 'schoolwork' while on break.  It might have helped that one of the first countries studied was Canada.  Hannah and Ben had just returned from visiting Canada with their grandparents and they were excited to learn a bit more about this beautiful country.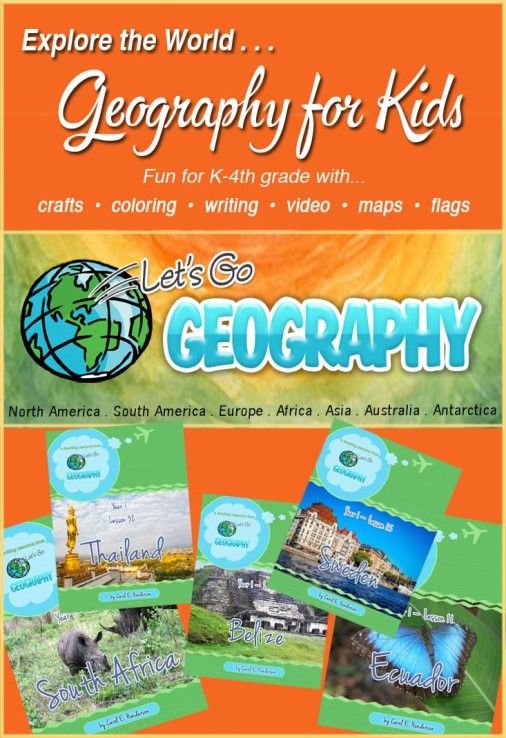 What is Let's Go Geography
Let's Go Geography is an online homeschool geography curriculum aimed at kindergarten through 4th grade students.  The lessons skip around the world, continent by continent.  With the exception of the United States, students will study one country each week.
Each week the lesson plan will arrive in your email box.  The member subscription page also links to all 36 lessons for the entire year.  This is very helpful if you want to look ahead and purchase any necessary craft supplies or check out relevant library books.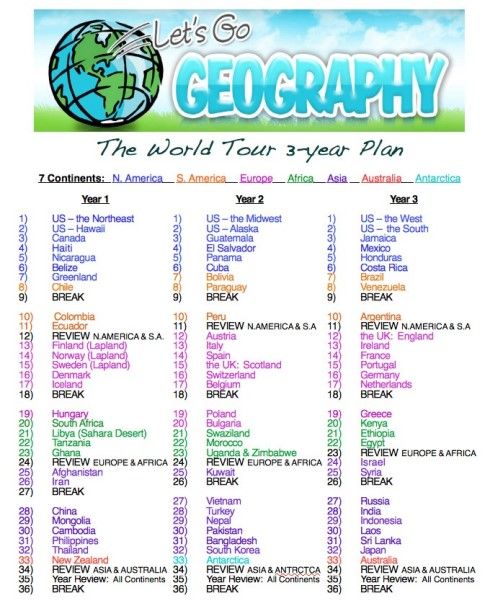 How Did We Use Let's Go Geography
At the beginning of each week I printed out all of the necessary pages for the upcoming lesson.  This typically included a continent map, a country map, a flag page, and a coloring page.   I hole punched the pages and popped them in our 'My Travel Journal' binders.
The Let's Go Geography site provides suggestions for organizing the papers with each lesson.  In fact our travel journals were one of the suggestions.  The site provides a few printable covers to slip into binders.  I printed different covers for each kid, which made it easy for them to grab the right one.  I put 5 divider tabs in the binders – one for each continent studied.
The lesson plan makes it easy to work through the lesson.  Just log in to your subscription page and follow the directions.  The lessons are available as a download, but it is very easy to just work straight from the Let's Go Geography page.
Each lesson includes:
Map skills
Country facts – official language, size, and the capital
Flag to color
Links to music
Cultural facts
Photos
Coloring page
Craft
Our favorite parts of the lessons were the music and photos.  I have taught geography to my kids for years, but it never occurred to me to include the national anthem of wherever we were studying.  Hannah said that she didn't realize every country had a national anthem until we tried out this curriculum.  The photos of famous landmarks gave us a bit of wanderlust.  The list of places we want to visit is growing!
There is a review lesson after two continents are studied.  During the review week, students identify countries on a blank map. There is some new information presented during each review week, so definitely do not skip them.  Map skills such as longitude, latitude, and hemispheres are taught during this time.
Final Thoughts
The Let's Go Geography curriculum is well organized.  It is easy to navigate and doesn't require much prep work. The activities feel just right for early elementary school.  It gives kids a small taste of a country without being an overwhelming amount of information.
The only part of the program that I'm not in love with are the break weeks.  Out of 36 lessons, 4 are break weeks, so you are really only getting 32 lessons.  You can use break weeks to catch up on unfinished lessons or to take a true break.  However, my family does schoolwork for 36 weeks each year.  Our breaks, such as Thanksgiving, Christmas, and Easter, are in addition to that 36 weeks.  This might not be a problem for some families, but I wanted to point it out so you can plan accordingly.
You can find Let's Go Geography at these online locations:
Check out reviews by other homeschool parents below!