This post may contain affiliate links.
A few weeks ago we wrapped up our 2015-2016 school year and I started thinking about next year.  There isn't a ton of down time when you are a homeschool mama.  You are either teaching or planning to teach. The time goes by so quickly. I can't believe it is time to plan our 6th grade curriculum already!
In September my kids will begin taking a few classes a week at a local parent partnership school.  It is similar to a traditional homeschool co-op with the exception that this is publicly funded.  I am still responsible for the kids education and will be teaching many of our core subjects at home, but this co-op allows us to offer our kids more electives and experiences.  Each co-op class meets only once a week so I will be helping teach the co-op subjects at home.
I was able to finalize my plans for Hannah next year as soon as I registered her for a few classes at our new co-op.  I can't believe she is already in 6th grade.
6th Grade Curriculum
6th Grade Language Arts Curriculum
Writing
We will be using Brave Writer again this year. Hannah has used the Partnership Writing program the past two years and will be progressing on to Faltering Ownership.  I love Brave Writer because it is project based.  I want writing to be enjoyable.  The Brave Writer program encourages a love for language arts.  We are big fans of Tuesday Tea with Poetry and Free Write Friday.
Spelling
We are trying a new-to-us curriculum this year. All About Spelling is a program that teaches children how to spell through spelling rules rather than list memorization. I want spelling to come naturally to my children so we are going to give it a try.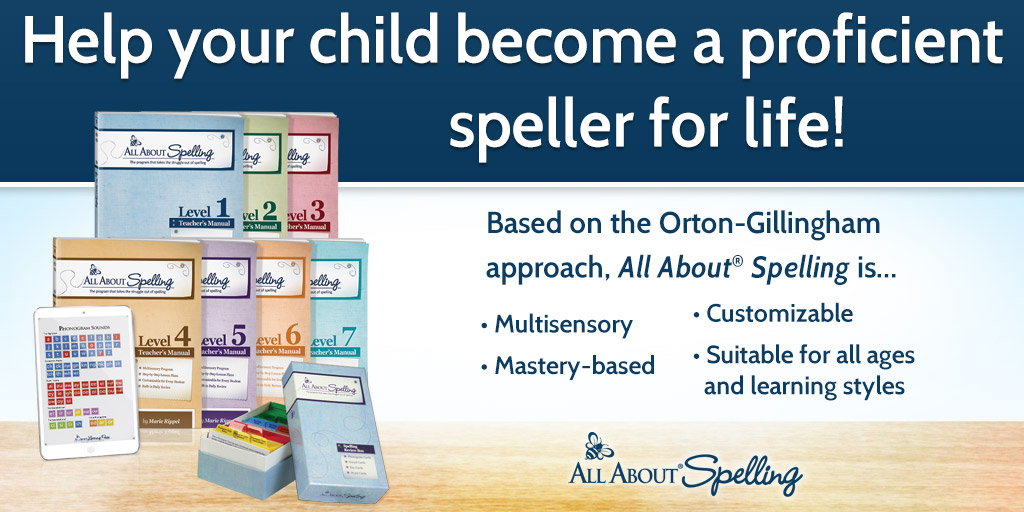 Reading
Hannah reads nonstop.  It isn't unusual for her to plow through several books a day.  My goal for her reading instruction is to slow down and think a little deeper about plot lines, character development, and what she can take away from each story.  We also cover vocabulary through reading.  I personally create her reading list so that it is tailored for her.
Grammar
We have not had great success finding a grammar program that we like so I was very excited to see our co-op offer a Shurley Grammar course this year.  Shurley Grammar is a spiral approach so that skills are constantly being reinforced.  It is highly structured, which I think will provide a nice balance to our fun writing program.
6th Grade History Curriculum
We are excited to read Story of the World volume 3.  We finished up Story of the World volume 2 in June so we are moving right along to the third book.  STOW volume 3 covers early modern times.  We like Story of the World because it combines historically accurate stories with hands on activities.  I can use it with both children, which definitely saves time.
6th Grade Geography
Hannah will be learning geography through co-op in a Taste the World class.  The students will study one continent at a time.  They will learn how food choices are based on culture and location.  They will learn to cook a variety of global dishes.
6th Grade Math
Our co-op is offering a Hands on Math program this year so Hannah's main math instruction will occur there.  My job will be to reinforce the concepts at home.  The course syllabus looks like they move along quickly so I expect that this class and homework will be enough for math this year.
6th Grade Science Curriculum
We really enjoyed NOEO Chemistry II this year so we are sticking with NOEO next year.  NOEO is great because they send a box filled with lesson plans, student notebook pages, science reference books, and experiments.  It saves me quite a bit of time not having to reinvent the wheel.  We are going to study biology with the Biology II program.
In my opinion, it is one of the best science curriculums available.
6th Grade Electives
P.E.
Hannah likes to do yoga with me at home so she will take a yoga class through our co-op.  Maybe she can even teach me some new poses.
Business
Hannah is taking a hands on business class at our co-op this year.  I'm excited about this because Hannah is naturally business savvy so a class like this is right up her alley.  Hannah and her classmates will spend the first semester learning about the principles of running a business.  The second semester is spent actually creating and running a business with their classmates.  They will donate any profits to a local charity.  I love everything about this.
This is shaping up to be a busy, but exciting year!
As an Amazon Associate I earn from qualifying purchases.
Related Posts: