This post may contain affiliate links.
Sometimes a game is exactly what we need to help teach our kids. Playing spelling games can be a fun way to build spelling skills.
Online and physical games are one of my favorite ways to practice spelling words.
I have always limited the amount of screen time my kids get every day, but that limit doesn't include educational websites. That allure of extra screen time was enough to entice my kids to practice their spelling skills.
Games can make spelling fun.
Spelling Games for Kids
Online Spelling Games
When I am looking for online spelling games, I look for games that are fun. After all, the point of teaching with games is that kids enjoy the lessons.
I also want the websites to be relatively ad-free. That can be difficult to find on a free website, but I want the ads to be kid-friendly at the very least.
Spelling City offers a free option as well as a paid membership. This website includes vocabulary, grammar, and writing in addition to spelling.
The free option is very limited. The nine game choices include pre-selected words for each grade range. The K-2 grades tend to include sight words, 3-5 and 6-8 grade levels are a mix of words about grammar and spelling rules. Grades 9-12 include SAT prep words.
The paid option currently includes 33 spelling games. Students can practice skills such as initial sounds, final sounds, rhyming, and syllables. The premium membership is $34.95 per year and includes 5 students.
Abcya was always one of my kids' favorite educational websites. It is intended for preschool – 6th grade.
Once again, there is a free version and a premium membership. This time though, the free option has quite a few games.
The games are sorted by subject area. The spelling games are in the 'word games' section.
The free option includes full access to all of the games on the website.
The benefit of the premium membership is access to all the games via the app, no ads, save progress on an unlimited number of games, use up to 5 devices (for the family membership). The premium membership is currently $9.99/ month, $44.99/ 6 months, or $69.99 annually.
PbsKids has a cute selection of free online spelling games. They are based on popular kid's television shows such as Clifford and Super Why.
The games are geared towards early elementary grades.
Physical Games
These physical game options are perfect when you don't want your kids in front of a screen. They are also great for kinesthetic learners who need to manipulate the pieces.
This spelling game is for 2 – 4 players.
Every player takes a plastic scoop and a word card. The word cards have 5 words, each word ranging from 3 – 5 letters.
Players scoop up the letter tiles from the soup pot and try to spell one of the words on their cards. The first person to correctly spell one of their words wins the round with the number of points equivalent to the number of letters in the word. For example, spelling the word STAMP equals 5 points.
My kids both LOVED playing Scrabble Alphabet Scoop when they were in the early elementary grades.
Zingo Word Builder is an award winning game geared towards the preschool and early elementary crowd.
This spelling game can be played by 2 – 6 players.
Players use the letter tiles to build 3 letter words. This simple game helps kids practice letter sounds and basic spelling.
Bananagrams is a low-stress way to practice building words.
Playing is very simple. Each player (1 – 8 people) gets an equal portion of the letter tiles. Everyone tries to build words arranged in a crossword format. The first player to use up all of their tiles wins!
This game can certainly be played in groups, but my daughter prefers to play this spelling game independently. She frequently takes the little yellow banana bag to the table to play quietly when she is looking for a relaxing activity.
Wordplay is a fast-paced spelling game. Each player creates words every round, so there is no down time waiting for a turn.
In each round a spinner chooses two letters and a die selects a word category. Then the players has 60 seconds to write down a word from that category with the selected letters.
When the timer is up, players move their game piece the number of spaces equal to the letters in their word. The first one around the board wins.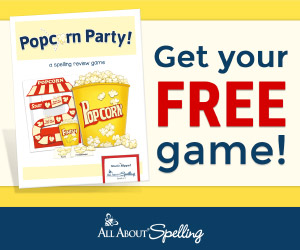 This printable free spelling game is the perfect companion to the All About Spelling curriculum. Don't worry if you use a different curriculum though. Kids can still benefit from the fun spelling practice.
Pin this list of spelling games so you can always find it!
As an Amazon Associate I earn from qualifying purchases.
Related Posts: